St Mary in the Baum
St Mary's Gate
Toad Lane
Rochdale
OL16 1DZ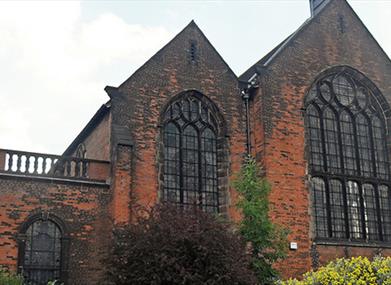 Built as a chapel-of-ease to St Chad's Rochdale in 1742 it was consecrated by the Bishop of Chester (Rochdale being in that Diocese). The original church remained in use until 1909, when it was decided that owing to the excessive cost of repairs (estimated at £8K) the building of a new church would be more economical. This was completed at a cost of £15K and consecrated in February 1911, by the then Bishop of Manchester. The architect appointed for the new church was Ninian Comper, an architect of some considerable reputation who was later knighted for his contribution to church architecture. Both in general design and in the detail of its construction there is marked evidence of Comper's skill and genius. The arrangement of the church is unusual in that there is a main aisle, choir and sanctuary on the south side and a central aisle and the Jesus Chapel on the north side.
The exterior of the church is constructed of narrow hand-made, 'Tucker's Bricks', except for the balustrade and mullions which are of Alderley stone. Red-tinted Alderley stone was used for the interior of the church and as this was used for the original building, it afforded Comper the means of incorporating items of significant architectural beauty from the original building. The pillars dividing the Jesus Chapel from the centre aisle are from the original church, as are the roundell windows in the Chapel itself. The altar is an early English altar with riddel posts and hangings.
Lunchtime concerts, Wednesdays, please contact the Visitor Information Centre.
Opening Times
2019 opening
(1 Jan 2019 - 31 Dec 2019)