St Edmund's Church
Edmund Street
Falinge
Rochdale
Greater Manchester
OL12 6QF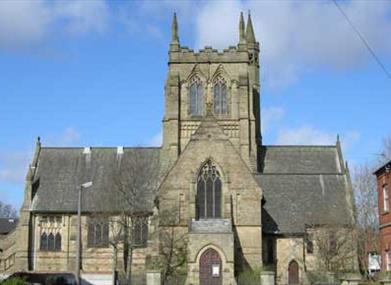 St Edmund's Church in Falinge, Rochdale is regarded as one of the finest but least known gems of ecclesiastical architecture in the country. Although from a distance the building resembles a typical parish church, it's only as you draw near that it becomes apparent that St Edmund's is far from typical. The first thing you notice is that it is built on high on a raised plynth set on a diamond shaped plot. It has a templar stone cross and pentagram, but it is the elaborate interior that is packed with masonic symbolism prompting comparisons with the medieval Rosslyn in Scotland.
Built in 1870 by the industrialist and banker Albert Hudson Royds, its carvings, windows, furniture and vaulted gothic ceiling are covered in masonic imagery. At the time it was built, it was the highest point in the township based on the dimensions of King Solomon's temple in the bible.
Regular extended opening hours for posted events and open days information is available on social media and Rochdale Online.
The church is available for weddings. Regular opening hours: First and third Saturday of the month starting on 7 February 2015 from 11am-3pm.
Entrance is free, but donations are welcome.