Bluebell Wood - A Piethorne Valley Walk
Rangers' Office
Ogden Lane
Springmill, Newhey
Rochdale
Greater Manchester
OL16 3TQ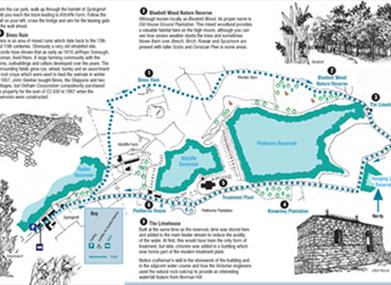 Although known locally as Bluebell Wood, its proper name is Old House Ground Plantation. This mixed woodland provides a valuable habitat here on the high moors, although you can see how severe weather stunts the trees and sometimes blows them over. Beech, Birch, Rowan and Sycamore are present with taller Scots and Corsican Pine in some areas.
A medium length walk which shows how the water gathering grounds are also used for farming, recreation and nature conservation. This route follows waymarked public footpaths, and is a medium difficulty walk.
Stout footwear is recommended for this route.